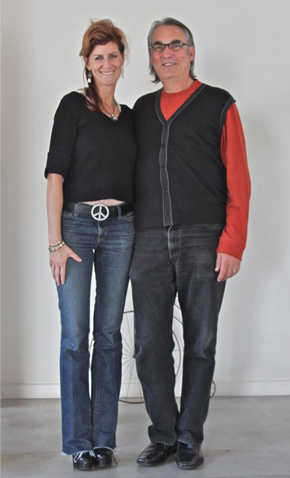 Photo: Jim White
David + Monica
One of nature's most rewarding gifts is wine that was solidly rooted, tenderly nurtured and skillfully blended. Creating a fine wine requires a lot of hand-holding from vine to bottle, and at some point wine admirers also need a little help navigating through the overwhelming number of options the vineyards produced.
David and Monica Stevens know that, and decided to fuse their skills, shared values and commitment to superb hospitality into creating an outstanding retail environment they call 750 Wines. Their vision has already achieved national recognition, and their customers, best of all, have learned how gratifying a little guidance can be.
David
David had the good sense to migrate west from the cold winters of Minot, North Dakota, arriving in San Francisco in 1975. After years in the restaurant business, working jobs from bartending to management, he headed to St. Helena to direct the wine program at the acclaimed Tra Vigne restaurant. In the small-town atmosphere of the Valley, David quickly built important relationships and friendships with winemakers and vintners. The bonds even blended music and wine when he became a bass player for the beloved Napa Valley rock 'n roll band, WRISTROCKET. He loves to talk about and recommend all kinds of music. Go ahead: ask him anything!
Monica
Monica blew in from Chicago in 2006, bringing her background in high-end lifestyle public relations and hospitality to the Poetry Inn, a luxury property in the Napa Valley. In 2008 she began her own concierge business, All Access Napa Valley, where she developed a devoted client following thanks to her wine country contacts and an instinct for creating memorable Napa Valley visits. David competes for her affection with their "Gentle Giant" rescue dogs, a Pyrenees and two St. Bernards. These are two of her favorite sites: Sierra Pacific Great Pyrenees Club and Rescue and Adopt A Saint.